---
About Midway Specialty Care Center
The mission of Midway Specialty Care Center, as a not-for-profit clinic, is to provide our patients a comprehensive infectious disease care center, with primary care, and access to behavioral health services, gynecological care and nutritional support. Our dedicated team of physicians, physician assistants, nurse practitioners, nurses, medical assistants, and pharmacists work to provide total patient care with dignity to those living with an infectious disease.
We have offices in Key West, Miami, Miami Beach, Wilton Manors (Fort Lauderdale), West Palm Beach, Atlantis (Lake Worth), Port St. Lucie, Fort Pierce, Orlando, Winter Park, Tampa and Winter Park. We adhere to the World Health Organization's model of 90/90/90: 90% of all people living with HIV will be identified, 90% of all people with HIV will be on treatment, and 90% of all people receiving antiretroviral therapy will have viral suppression to an undetectable level.
Our goal is to create a collaborative not-for-profit practice that will serve the community's needs and exceed customers' expectations through our customized approach to patient care services. We strive to provide high-quality medical and pharmaceutical services incorporating natural and pharmacological approaches to wellness. We promise our patients the utmost in professionalism and provide quality health care which will focus on the latest proven treatment options.
Your Midway Specialty Care Center healthcare providers have an over-all plan for you, which includes your specialty and primary care appointments, lab tests, and many other services. When you participate in all of these parts, you are engaged in your care.
Our reliable staff at Midway Specialty Care Center is trained in the guiding philosophy of excellence in patient care and treatment and we all share the same concerns for our patients.
---
Clinical Staff
---
Moti Ramgopal, MD | FIDSA | FACP | CPI
Moti Ramgopal | MD, FACP, FIDSA is a Consultant Physician and Director of Associates in Infectious Diseases; Founder of Midway Immunology and Research Center, Founder and Chief Medical Officer for the not-for-profit Midway Specialty Care Center and Founder of Midway Primary Care, a not-for-profit primary care practice; Associate Professor of Medicine at Florida State University Medical School; and founder of Asvins.org.
Dr. Moti Ramgopal is affiliated with several hospitals in the area, including Lawnwood Regional Medical Center and Heart Institute, Saint Lucie Medical Center and Martin Health Systems. Dr. Ramgopal received his medical degree from University of the West Indies Faculty of Medical Sciences and completed a Residency in Internal Medicine at Bon Secours Hospital in Michigan. He then completed a Fellowship in Infectious Diseases at Jackson Memorial and the University of Miami School of Medicine. He has been in practice for more than 20 years. Dr. Ramgopal is certified by the American Board of Internal Medicine and Board Certified in Infectious Disease.
Dr. Ramgopal serves as a Certified Principal Investigator for clinical research. His studies have been published in peer-reviewed journals such as The New England Journal of Medicine, The Lancet, The Journal of AIDS and IDSA's The Journal of Infectious Diseases. His Midway Immunology and Research Center clinical team treated 300+ HIV and Hepatitis C patients for free at a savings to the community of more than $5,000,000 to date, giving patients access to cutting-edge treatments not available to the general public. Dr. Ramgopal was awarded the Top Physician honor by Treasure Coast Newspapers in 2014, received the Frist Humanitarian Award from HCA, and is a winner of FSU Guardian of the Mission Award. He founded the 501 c-3 Midway Specialty Care Center the same year to enhance access to treatment for all patients living with chronic diseases and Hepatitis and HIV.
Midway Specialty Care Center's (MSCC) focus is to treat the whole patient, including a patient's physical and mental health care needs. MSCC patients have access to in-house behavioral health care services, prescription medication management, nutrition services and wellness, acute and chronic care, as well as access to treatment and drugs through the clinic's in-house pharmacy. Dr. Ramgopal is also recognized as a top Infectious Disease Doctor in the country by US News and World Reports. See his currently enrolling clinical trials:
www.midwayresearch.org
Raja Talati, MD
Raja Talati | MD, MBA, MSC, FAAFP was a past board member and then joined the team as Assistant Chief Medical Officer and Primary Care Physician at Midway specialty Care Center. He is involved with the informatics, IT and development of the telemedicine program. Dr. Talati sees patients at Midway Specialty Care Center in Fort Pierce as well as providing Family Medicine care to patients at Midway Primary Care in Port St. Lucie.
He is currently an assistant program director at the St. Lucie Medical Center Family Residency Program and Assistant Professor of Family Medicine at Nova Southeastern University. Prior to this, he was in practice at the Heart and Family Health Institute, also in PSL.
He served as the Medical Director at the St.Lucie County Juvenile Detention Center from 2011 to 2017. He has served on numerous committees at St.Lucie Medical Center which include the following:
Infection Control, Utilization, Ethics, Medical QA 2011 ,Infection Control, Medical executive as Vice Chief of Staff and is now Chief of Credentials.
In the Community he was the local soccer clubs staff physician and also was the Consulting Physician at Sungrove Montessori school when they were trying to earn accreditation.
For his country, he currently holds the position of Chief of Aerospace Medicine for the 927th AMDS at MacDill AFB and was previously the Chief of Credentials. He has about 400 hours of flight time in the C-17 and KC-135.
Since completing medical school, he earned his Masters In Health Information Systems and is a candidate for his MBA with a specialization in Healthcare Analytics.
When not working; he enjoys outdoor activities and traveling with his two sons and wife.
Berjan Collin, MD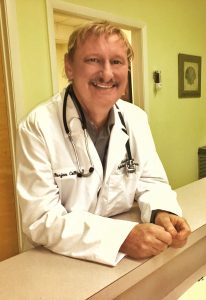 Practices as an Infectious Disease Specialist in Port Saint Lucie, FL. Berjan Collin, MD graduated from Vrije Univ Brussel, Fac Van De Geneeskunde En De Farm, Brussel. Dr. Collin completed a Residency in Internal Medicine at the university of North Dakota in Fargo, North Dakota; which was followed by a Fellowship in Infectious Diseases at the University of Florida in Gainesville, Florida.
Education
Vrije University of Brussel
Fac Van De Geneeskunde En De Farm Brussel
---
Suzan E. Zimmer, DO
Dr. Suzan Zimmer attended medical school at Nova Southeastern University. She completed a three year Family Medicine Residency at Florida Medical Center South. After the completion of her Family Medicine Residency, Dr. Zimmer moved to Fort Pierce, FL. In 1996 Dr. Zimmer worked for Florida Community Health Center Inc., where she stayed for 6 years as Clinical Director. In 2002 she went into private practice and has since remained in private practice. Dr. Zimmer has staff privileges at Lawnwood Regional Medical Center and at St Lucie Medical Center. Dr Zimmer has served on Medical Executive Committee at Lawnwood Regional Medical Center for the past several years.
Michael Dunn, MD
Dr. Michael Dunn is our Tampa Medical Director. Dr. Dunn is a certified member of the American Association of HIV Medicine and Fellowship Trained in Infectious Diseases. Dr. Dunn specializes in Internal Medicine and Infectious Diseases, with an emphasis on HIV disease and Hepatitis. Dr. Dunn has been an integral part of the HIV care in the Tampa Bay area for over 20 years and is highly respected in his field. Dr. Dunn received his medical degree from University of Tennessee. He completed a Residency in Internal Medicine at Baptist Memorial Hospital in Memphis, Tennessee and went on to complete a Fellowship in Infectious Disease at Vanderbilt University in Nashville, Tennessee. Dr. Dunn has also served as principal Investigator for numerous Clinical Trials.
Claudio D. Tuda, MD
Claudio Tuda, MD is a graduate of the University of Buenos Aires School of Medicine in Argentina.  Dr. Tuda then completed an Internship and Residency at University Hospital "José de San Martín".  After coming to the US, Dr. Tuda was a Fellow / Research Associate in Microbiology and Virology, Department of Pathology at the West Virginia University Hospital.  He then completed another Research project titled  Special Immunology / AIDS Comprehensive AIDS Program at the University of Miami, Jackson Memorial Hospital.  Dr. Tuda enrolled in another Internship and Residency program in Internal Medicine at Mount Sinai Medical Center in Miami Beach, Florida and went on to complete a Fellowship in Infectious Disease.  Dr. Tuda was enlisted to work as the Program Director for the Internal Medicine Program at Mount Sinai Medical Center.  He is Assistant Professor of Medicine/Key Faculty Attending, Infectious Disease Department for University of Miami / Mount Sinai Medical Center, Clinical Associate Professor of Medicine at NOVA University-Department of Medicine / Osteopathic School of Medicine.
His fields of interest are general infectious disease, HIV and hepatitis C.
Cynthia I. Rivera, MD, FACP
Cynthia I Rivera, is an Infectious Diseases specialist and the Associate Program Director for the Internal Medicine Residency at Mount Sinai Medical Center in Miami Beach, Florida.  
Dr. Rivera received her undergraduate training at University of Nebraska, followed by medical school at University of Nebraska Medical Center.  She then moved to Miami in 2004 to undergo her internship and residency at University of Miami/Jackson Memorial Hospital. After a year as Chief Medical Resident and another year specializing in medical education, she started her Infectious Diseases fellowship, also at University of Miami/Jackson Memorial Hospital.  Upon completion of her Infectious Diseases training, she joined private practice and she has been in practice since 2011. Her interests include: medical education, treatment and prevention of HIV, maintenance of overall sexual health, wellness initiatives and treatment of patients with hepatitis C, both mono-infected and co-infected with HIV.  In addition, she serves on the board of directors of Mindo Futures, a 501c3 organization dedicated to health and educational initiatives in rural Ecuador and elsewhere.
Nicholas S. Camps, DO
Dr. Nicholas Camps is a new addition to the Midway Specialty Care Center/ Academic & Clinical Infectious Disease group and part of the Infectious Diseases faculty at Mount Sinai Medical Center. He is a graduate of Nova Southeastern University Osteopathic Medical School. Following graduation in 2013 he completed his internship and residency at Palmetto General Hospital in Hialeah, FL where he was a Chief Medical Resident.
Following Residency, he went on to do his Infectious Disease fellowship at Jackson Memorial Hospital/University of Miami where he graduated as Infectious Disease Fellow of the Year in 2018. He subsequently joined the Academic and Clinical Infectious Disease/Mount Sinai Infectious Disease group and is a voluntary faculty with the interns and residents.
Dr. Brenda Jacobs 
DNP, APRN, AAHIVS
After moving to Florida from Maine in 1989, Dr. Brenda Jacobs witnessed the great demand for nurses and decided to go back to school for nursing. She received her BSN and MSN from Florida Atlantic University in Boca Raton. Brenda worked as an ICU nurse for 4 years prior to joining Midway Immunology and Research Center in 2002. In 2013, she obtained her DNP from University of Florida. She specializes in the care of HIV/AIDS and Hepatitis C patients. Brenda has been instrumental in helping Dr. Ramgopal establish and expand Midway Immunology and Research Center. Brenda is a dedicated nurse practitioner who is focused on improving the access of care for the HIV/AIDS community and decreasing the stigma of HIV. She is inspired by the opportunity to build relationships and make differences in peoples' lives by helping them to obtain a better quality of life.
Darla Bagwell, APRN-C, AAHIVS
Ms. Bagwell graduated from the University of Tampa with a Master of Science in Nursing and is a board certified adult nurse practitioner. She holds a certification as an HIV specialist from the American Academy of HIV Medicine. Ms. Bagwell joined Midway Specialty Care Center in 2013 at the advent of the direct acting antiviral era for the treatment of hepatitis C. Ms. Bagwell provides treatment for HIV, hepatitis C, pre-exposure HIV prophylaxis, post-exposure HIV prophylaxis, sexually transmitted infections, and primary care. Ms. Bagwell enjoys spending her free time with her husband and her two daughters.
---
Jennifer Kuretski, DNP, APRN, NP-C, AAHIVS, CCRP
Jenn primarily practices as an advanced practice registered nurse in the field of infectious disease. Jenn serves as the clinical administrator and is primarily responsible for the West Palm Beach office. She has provided infectious disease consultations in the inpatient as well as outpatient clinical settings. Dr. Kuretski attained the distinction of Doctor of Nursing from the University of Miami, School of Nursing. She has a particular interest in retroviruses such as Human Immunodeficiency Virus (HIV). This interest and clinical experience led her to obtaining specialty certification as an American Academy of HIV Medicine, HIV Specialist. She has been involved in over 50 clinical trials in the field of infectious disease. She previously served as adjunct faculty at the University of Miami in the M.S.N. and D.N.P. programs at the School of Nursing. Dr. Kuretski is a family nurse practitioner certified by the American Academy of Nurse Practitioners (AANP).
Lauren Leeflang is a Board Certified Physician Assistant.
Lauren was only two semesters away from graduating with a Bachelor of the Arts in Anthropology from the University of Florida when she enrolled in a Medical Anthropology course. From that moment on, she was fascinated by the societal and cultural influences on healthcare and medicine, leading her to immediately enroll in Florida Atlantic University's Pre-Health Professions Post-Baccalaureate program upon the completion of her degree. It was there that she learned more about the Physician Assistant profession and the nationwide shortage of primary care providers.
She graduated with honors from the Nova Southeastern University Physician Assistant Program in Orlando, Florida, where she earned her Masters of Medical Sciences. As a PA, Lauren is passionate about primary care, and appreciates the diverse clinical challenges of HIV and other infectious diseases.
A self-described "food nerd," Lauren spends much of her free time in the kitchen trying new recipes, or brewing beer with her husband. She also loves gardening, the beach, and her adorable dog, Kona.
---
Tracy Britcher- Speck, APRN
Tracy is a lifelong resident of Fort Pierce and has 15 years experience in the medical field. She achieved her goal of becoming an Advanced Practice Registered Nurse, in 2011 from Florida Atlantic University. Prior to that, she worked as an registered nurse. In addition to her time spent seeing patients at our Primary Care Practice, Tracy visits many patients to provide care for them in local nursing homes and assisted living facilities as well. Ms. Britcher also also serves as Clinical Preceptor for Florida Atlantic University and Southern University.
"I love my career and love people. I love that I am able to give back to people and make a difference in healing others," Tracy said.
She also has privileges and practices at Lawnwood Regional Medical Center and Heart Institute in Fort Pierce.
Rodrigo Sabec, APRN

Rodrigo Sabec, APRN is originally from Brazil but relocated and settled in the Tampa area. Mr. Sabec received his Master's degree in Sciences of Nursing from South University in Tampa, Florida. Mr. Sabec is Board Certified by The American Academy of Nurse Practitioners National Certification Board, Inc. as a Family Nurse Practitioner.  Mr. Sabec has a focused interest in HIV treatment, transgender care and PrEP and enjoys spending time with Ginger and Ella (his dogs) and loved ones.
---
Angela R. Trodglen, APRN
Ms. Trodglen received her Associate and Bachelor in Science in Nursing from Indian River State College.  Angela received a Master of Science in Nursing with high honors from South University in Savannah, Georgia.  
Angela has worked for Associates in Infectious Diseases, PA since 2016.  She joined the Medical Staff Team with several years of Hospital experience in PCU and Surgical PCU.  Ms. Trodglen has developed a focused interest in the field of Infectious Diseases. Angela is a Florida native and grew up in Vero Beach.
Mihir Patel, Clinical Pharmacist
Mr. Patel has been a pharmacist since 1998. He received his Bachelor of Science degree from K.L.E.'S College of Pharmacy, Belgaum, India. He is also a licensed pharmacist in the states of Florida and Texas.
Mihir's past pharmaceutical experiences include Industrial Pharmaceutical Manufacturing, Product Development, Marketing and Retail Pharmacy. He developed products (creams, ointment & tablet) for the global generic market, specifically for Indian market and developing countries. He enjoys the experience at Midway Specialty Care Center where he interacts with patients and provides Medication Therapy Management (MTM). This is a service that benefits patients by helping them to organize their medications, avoid drug complications, improve their medication knowledge, and improve their adherence and utilization of medications. This results in a reduction of drug duplication, harmful side effects and drug interactions. His aim is to optimize drug therapy and improve therapeutic outcomes for Midway Specialty Care Center's patients.
Certifications: Florida State License, Texas State License, APhA Certified Immunizer and APhA Certified MTM – "Train-The-Trainer".
Chris Dowden, Pharm D
Chris graduated with a his Pharm D from Palm Beach Atlantic University's Lloyd L. Gregory School of Pharmacy in 2008. He is credentialed as a Board Certified Pharmacotherapy Specialist through the Board of Pharmacy Specialties and a HIV Pharmacist through the American Academy of HIV Medicine. He has 8 years of experience working in HIV and has held various leadership roles such as Director of Pharmacy and Pharmacy Manager since 2009. He believes in giving back to the community has volunteered his time with the Palm Beach County HIV CARE Council since 2015. He has served as the Chair of the Local Pharmaceutical Assistance Program Committee and is the current Chair of the CARE Council."